An Iranian freighter Was Hit By Israel In The Red Sea: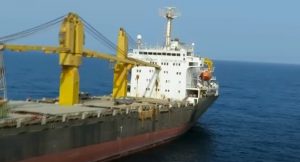 An Iranian freighter was hit by Israel in the Red Sea in retaliation for past Iranian strikes on its vessels. The blast struck the Iranian commercial vessel MV Saviz off the coast of Djibouti.
The attack came as Iranian officials gathered in Vienna to negotiate the restoration of a 2015 deal Joint Comprehensive Plan of Action (JCPOA) that was designed to curb Iran's nuclear activities.
Red Sea:
The Red Sea is a semi-enclosed tropical basin, bounded by northeastern Africa, to the west, and the Arabian peninsula, to the east.
The elongated and narrow-shaped basin extends between the Mediterranean Sea, to the north-west, and the Indian Ocean, to the south-east.
At the northern end, it separates into the Gulf of Aqaba and the Gulf of Suez, which is connected to the Mediterranean Sea via the Suez Canal.
At the southern end, it is connected to the Gulf of Aden, and the outer Indian Ocean, via the Strait of Bab-el-Mandeb.
It is surrounded by desert or semi-desert areas, with no major freshwater inflow.