Red Sanders: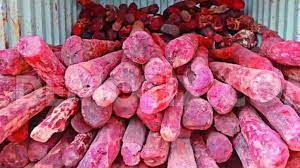 The International Union for Conservation of Nature's (IUCN) recently categorised the Red Sanders (or Red Sandalwood) again into the 'endangered' category in its Red List.
It was classified as 'near threatened' in 2018.
The species, Pterocarpus santalinus, is an Indian endemic tree species, with a restricted geographical range in the Eastern Ghats.
The species is endemic to a distinct tract of forests in Andhra Pradesh.
Red Sanders usually grow in the rocky, degraded and fallow lands with Red Soil and hot and dry climate.
Threats:
Illicit felling for smuggling, forest fires, cattle grazing and other anthropogenic threats.
Red Sanders, known for their rich hue and therapeutic properties, are high in demand across Asia, particularly in China and Japan, for use in cosmetics and medicinal products as well as for making furniture, woodcraft and musical instruments.
Protection Status:
IUCN Red List: Endangered.
CITES: Appendix II
Wildlife (Protection) Act 1972: Schedule II