River-Cities Alliance: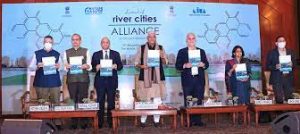 National Mission For Clean Ganga Organizes River-Cities Alliance Global Seminar.
River Cities Alliance (RCA) was launched in 2021.
It is organized by National Mission for Clean Ganga (NMCG) in association with the National Institute of Urban Affairs (NIUA).
It is a joint initiative of the Department of Water Resources, River Development & Ganga Rejuvenation under the Ministry of Jal Shakti (MoJS) & the Ministry of Housing and Urban Affairs (MoHUA).
Objective is to provide a platform for officials of member cities and international stakeholders to discuss and learn good practices for managing urban rivers.
Vision is to connect river cities and focus on sustainable river-centric development.
Beginning with 30 member cities in November 2021, the Alliance has expanded to 109 river cities across India and one international member city from Denmark.
It is a dedicated platform for river cities across India to discuss & exchange information for sustainable management of urban rivers.
It includes cities from both the Ganga basin and non-Ganga basin states.(UPSC CSE: Linking Rivers)
The RCA Global Seminar witnessed participation from Embassies/High Commissions of select countries along with funding agencies like the World Bank, ADB, JICA & KfW.