Minerals Security Partnership: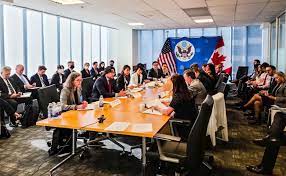 There is growing concern in the Government over India not finding a place in the Minerals Security Partnership.
Minerals Security Partnership is an ambitious new US-led partnership to secure supply chains of critical minerals, aimed at reducing dependency on China.
Demand for critical minerals, which are essential for clean energy and other technologies is projected to expand significantly in the coming decades.
Critical Minerals:
Critical minerals are elements that are the building blocks of essential modern-day technologies and are at risk of supply chain disruptions.
These minerals are now used everywhere from making mobile phones, computers to batteries, electric vehicles and green technologies like solar panels and wind turbines.
Major Critical Minerals:
Graphite, Lithium and Cobalt are used for making EV batteries.
Aerospace, communications and defence industries also rely on several such minerals as they are used in manufacturing fighter jets, drones, radio sets and other critical equipment.
While Cobalt, Nickel and Lithium are required for batteries used in electric vehicles, rare earth minerals are critical, in trace amounts, in the semiconductors and high-end electronics manufacturing.
Minerals Security Partnership (MSP):
It is an initiative by the United States to bolster critical mineral supply chains.
Partners: Australia, Canada, Finland, France, Germany, Japan, the Republic of Korea, Sweden, the United Kingdom, the United States, and the European Commission.
Objective: The goal of the MSP is to ensure that critical minerals are produced, processed, and recycled in a manner that supports the ability of countries to realize the full economic development benefit of their geological endowments.
Focus would be on the supply chains of minerals such as Cobalt, Nickel, Lithium and also the 17 "rare earth" minerals.