SAMARTH Scheme : New Implementing Partners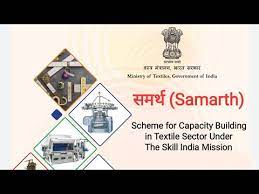 The panel of SAMARTH scheme implementing partners has been broadened with empanelment of 43 new implementing partners and additional target of training around 75,000 beneficiaries has been allocated to the training partners.
The Funding pattern has been revised with an increment of 5% in cost norms, which will give much needed additional financial support to industries imparting skill under this Scheme.
SAMARTH scheme:
Scheme for Capacity Building in Textiles Sector (SAMARTH) is a demand-driven and placement-oriented umbrella skilling programme.
It aims to incentivize and supplement the efforts of the industry in creating jobs in the organized textile and related sectors, covering the entire value chain of textiles, excluding Spinning and Weaving.
In addition to the entry-level skilling, a special provision for upskilling/ re-skilling programme has also been operationalized under the scheme towards improving the productivity of the existing workers in the Apparel & Garmenting segments.
The implementation period of the scheme is up to March 2024.
Nodal Ministry: Ministry of Textiles.