The Green Gold Collection' On the GeM (Government e-Marketplace) Portal For The Marketing of Bamboo Good: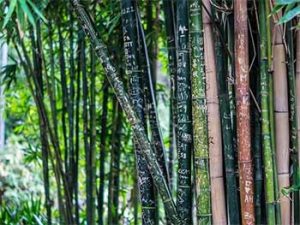 The government of India has dedicated a window to 'The Green Gold Collection' on the GeM (Government e-Marketplace) portal for the marketing of Bamboo Goods.
This window is the collective work of the National Bamboo Mission (NBM) and GeM.
It showcases a range of exquisitely handcrafted bamboo and bamboo products, handicrafts, disposals and office utility products on the GeM portal.
It aims to provide bamboo artisans, weavers and entrepreneurs in rural areas with market access to Government buyers.
It seeks to promote the adoption and use of bamboo products among Government buyers and usher a sustainable rural economy for an Atmanirbhar Bharat.
National Bamboo Mission:
The restructured NBM was launched in 2018-19 for the holistic development of the complete value chain of the bamboo sector and is being implemented in a hub & spoke model.
"Hub & Spoke" model wherein the Mentor Institution, called the "Hub" is centralized and will have the responsibility of guiding the Mentee institution through the secondary branches the "Spoke" i.e. through the services provided to the mentee for self-improvement.
Objectives: Connecting farmers to markets so as to enable farmer producers to get a ready market for the bamboo grown and to increase the supply of appropriate raw material to the domestic industry.
Nodal Ministry: Ministry of Agriculture and Farmers Welfare.
Government e-Marketplace:
GeM is a one-stop National Public Procurement Portal to facilitate online procurement of common use Goods & Services required by various Central and State Government Departments/Organizations /Public Sector Undertakings (PSUs).
The procurement of goods and services by Ministries and the Central Public Sector Enterprises (CPSEs) is mandatory for goods and services available on GeM.
It also provides the tools of e-bidding and reverses e-auction to facilitate the government users to achieve the best value for their money.
At present, GeM has more than 30 lakh products, over Rs. 10 lakh crore worth of transactions has happened so far at the portal.
It was launched in 2016 to bring transparency and efficiency in the government buying process.
Nodal Ministry: Ministry of Commerce and Industry.