Instant Messaging Platform: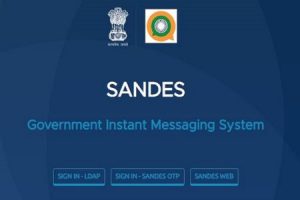 The National Informatics Centre (NIC) has launched an instant messaging platform called Sandes on the lines of WhatsApp.
NIC is under the aegis of the Ministry of Electronics and Information Technology. It provides network backbone and e-Governance support to the Central Government, State Governments and UT Administrations.
Sandes App:
It is a Government Instant Messaging System (GIMS) that can be used for official or casual use by any Government employee or public user having a valid Mobile No./Email ID.
It offers features such as group making, broadcast message, message forwarding and emojis.
Although there is no option to transfer the chat history between two platforms, the chats on GIMS can be backed up to a users' email.
The user will have to re-register as a new user in case they wish to change their registered Email Id or phone number on the App.
It allows a user to mark a message as confidential, which will allow the recipient to be made aware the message should not be shared with others.