Davis Cup 2021: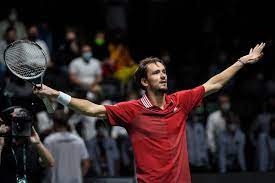 The Davis Cup 2021 was won by Russian Tennis Federation.
The Davis Cup finals was held between Daniil Medvedev and Andrey Rublev of Russia.
And Daniit Medvedev won the match bringing victory to the Russian Tennis Federation.
Andrey Rublev was named the Most Valuable Player.
The Davis Cup is also called the World Cup of Tennis.
It is an international team event in men's tennis.
The women's equivalent of Davis Cup is Billie Jean King Cup.
It is conducted by the International Tennis Federation.
It was first held in 1900 as a challenge between US and Britain.
By 2016, there were 135 countries participating in the competition.
The most successful countries of Davis cup are USA, Australia, New Zealand.
USA has so far won the Davis Title 32 times, Australia has won for 28 times.