Killer Squadron: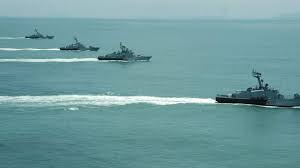 Ram Nath Kovind, the President of India, will award the President's Standard to the 22nd Missile Vessel Squadron, also known as the Killer Squadron at a ceremonial parade to be held at Naval Dockyard, Mumbai on 08 December 2021.
The 22nd Missile Vessel Squadron was formally established at Mumbai in Oct 1991 with ten Veer Class and three Prabal Class missile boats.
However, the genesis of 'Killers' dates back to the year 1969, with the induction of OSA I Class missile boats from erstwhile USSR to bolster the strength of the Indian Navy.
These missile boats were transported to India on heavy lift merchant ships and commissioned in early 1971 at Kolkata. They were baptised by fire in the same year during the Indo – Pak war of 1971 where they played a decisive role in the outcome of the war.
The President's Standard is the highest honour bestowed by the Supreme Commander to a military unit in recognition of the service rendered to the nation.
The Indian Navy was awarded the President's Colours on 27 May 1951 by the then President of India, Dr Rajendra Prasad.
The President's Standard is the same honour as the President's Colours, awarded to a relatively smaller military formation or unit.