Palk Strait : Ferry Service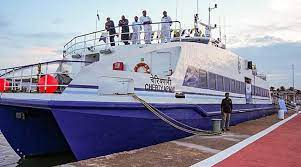 India and Sri Lanka recently launched a ferry service across the Palk Strait under a new roadmap for greater connectivity.
Palk Strait is a strait that lies between the Tamil Nadu state of India and the island nation of Sri Lanka.
The strait is named after Robert Palk, who was a governor of Madras Presidency (1755-1763) during the British Raj period.
It is bounded on the south by Pamban Island (India), Adam's (Rama's) Bridge (a chain of shoals), the Gulf of Mannar, and Mannar Island (Sri Lanka).
It connects the Bay of Bengal in the northeast with the Gulf of Mannar in the southwest.
The southwestern portion of the strait is also called Palk Bay.
The strait is 40 to 85 miles (64 to 137 km) wide, 85 miles long, and less than 330 feet (100 metres) deep.
Several rivers flow into it, including the Vaigai River of Tamil Nadu.
The port of Jaffna, the commercial centre for northern Sri Lanka, lies on the strait.