Section 66A Of The Information Technology Act: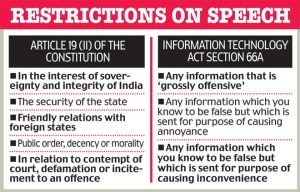 The Delhi High Court has asked the Centre to consider as representation a petition seeking to remove provisions from the statute such as Section 66A of the Information and Technology Act, which have already been declared unconstitutional.
There are several criminal law sections that were struck down by the Supreme Court but continue to be used by police officers. In some cases, trial courts went ahead with framing charges under the defunct IT Act provision, even after taking cognisance of the Supreme Court's 2015 judgment.
Section 66A defines the punishment for sending "offensive" messages through a computer or any other communication device like a mobile phone or a tablet.
A conviction can fetch a maximum of three years in jail and a fine.
It empowered police to make arrests over what policemen, in terms of their subjective discretion, could construe as "offensive" or "menacing" or for the purposes of causing annoyance, inconvenience, etc.
The SC had noted that Section 66A arbitrarily, excessively and disproportionately invades the right of free speech, under article 19(1) (a) of the Constitution, and upsets the balance between such right and the reasonable restrictions that may be imposed on such right and the definition of offences under the provision was open-ended and undefined.
On July 5, the Supreme Court had expressed shock and dismay over police continuing to register cases under section 66A despite it being quashed six years ago.
As of March 2021, a total of 745 cases are still pending and active before the district courts in 11 states, wherein the accused persons are being prosecuted for offences under Section 66A of the IT Act.