Sengol : Historical Sceptre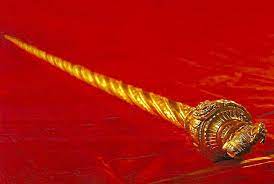 A historical sceptre from Tamil Nadu 'Sengol' will be installed at the new Parliament building to be inaugurated by by Prime Minister Narendra Modi on May 28.
Sengol was used on August 14, 1947, by then Prime Minister Jawaharlal Nehru when the transfer of power took place from the British.
It was kept in a museum in Allahabad.
The word Sengol is derived from the Tamil word 'Semmai', meaning 'righteousness'.
It is a civilisational practice from the Chola kingdom, which was among the leading kingdoms in the Indian sub-continent for centuries.
According to Tamil tradition, a high priest presents a sceptre to a newly crowned king as a symbolic gesture of power transition.
The one accorded the 'sengol' is expected to impart a just and impartial rule.
C Rajagopalachari, the last Governor General of India, suggested that this tradition, observed by the Chola dynasty, could serve as a significant symbol of India's freedom from British rule.
The 'Sengol' was crafted by a renowned jeweller in Madras Vummidi Bangaru Chetty.
This impressive sceptre measures five feet in length and features a 'nandi' bull at the top, representing the concept of justice.