National Super Computing Mission (NSM):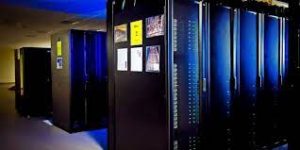 India is fast emerging a leader in high power computing with the National Super Computing Mission (NSM).
The National Supercomputing Mission was launched to enhance the research capacities and capabilities in the country by connecting them to form a Supercomputing grid, with National Knowledge Network (NKN) as the backbone.
The Mission is being jointly steered by the Department of Science and Technology (DST) and the Ministry of Electronics and Information Technology (MeitY) and implemented by the Centre for Development of Advanced Computing (C-DAC), Pune, and the Indian Institute of Science (IISc), Bengaluru.
Phases:
Computing infrastructure has already been installed in four premier institutions and installation work is in rapid progress in 9 more.
Completion in of Phase II of NSM in September 2021 will take the country's computing power to 16 Petaflops (PF).
Phase III, initiated this year, will take the computing speed to around 45 Petaflops. This will include three systems of 3 PF each and one system of 20PF as a national facility.
PARAM Shivay, the first supercomputer assembled indigenously, was installed in IIT (BHU), followed by PARAM Shakti, PARAM Brahma, PARAM Yukti, PARAM Sanganak at IIT-Kharagpur IISER, Pune, JNCASR, Bengaluru and IIT Kanpur respectively.
PARAM Siddhi – AI, the high-performance computing-artificial intelligence (HPC-AI) supercomputer, has achieved global ranking of 62 in TOP 500 most powerful supercomputer systems in the world, released on 16th November 2020.