Serious Fraud Investigation Office: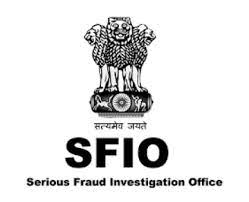 Serious Fraud Investigation Office (SFIO), arrested a Chartered Accountant in Hyderabad recently.
Shri Nalin Prabhat Panchal, a Chartered Accountant by profession was arrested for failure to honour the summons issued in connection with the prosecution of Nityank Infrapower & Multiventures Private Limited.
Serious Fraud Investigation Office (SFIO):-
Ministry: Ministry of Corporate Affairs.
HQ: New Delhi.
As per the Companies Act, 2013, the Serious Fraud Investigation Office (SFIO) has been established through the Government of India Notification dated 07.2015.
It is a multi-disciplinary organization, consisting of experts in the field of accountancy, forensic auditing, banking, law, information technology, investigation, company law, capital market and taxation, etc.
It works for detecting and prosecuting or recommending for prosecution white-collar crimes/frauds.
It has five Regional Offices in Mumbai, New Delhi, Chennai, Hyderabad & and Kolkata.
Headed by: a Director as Head of Department in the rank of Joint Secretary to the Government of India.
The Director is assisted by Additional Directors, Joint Directors, Deputy Directors, Senior Assistant Directors, Assistant Directors Prosecutors, and other secretarial staff.