Gond Tribes And Hattee Community: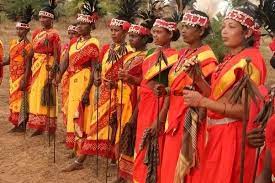 A motion has been initiated in Lok Sabha to include Hattee community of Sirmaur district's Trans-Giri region in the Scheduled Tribes list of Himachal Pradesh. Also, a bill to move in the Gond community from SC to the ST list in four districts of UP has been approved by the Rajya Sabha.
A motion is any proposal made for the purpose of eliciting a decision from the House.
There can be different types of motions such as Cut motion, Call-attention motion etc.
Gond is one of the largest tribal groups speaking the Gondi language (a Dravidian ethnolinguistic group).
They are spread over several states- MP, Chhattisgarh, Maharashtra, etc. They are generally peasants and worship nature.
Bhil are the largest Tribe in India (consisting of 38% of the ST population of India)
Hattee community : The Hattis are a close-knit community that got their name from their tradition of selling homegrown vegetables, crops, meat, and wool, etc. at small markets called 'haat' in towns.
The Hatti homeland straddles the Himachal-Uttarakhand border in the basin of the Giri and Tons rivers, both tributaries of the Yamuna.