Smart cities And Academia Towards Action & Research (SAAR) Program: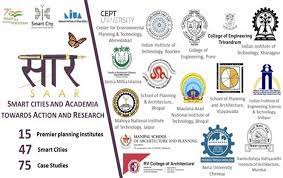 The Ministry of Housing and Urban Affairs (MoHUA) has launched "Smart cities and Academia Towards Action & Research (SAAR)" program.
It is a joint initiative of MoHUA, National Institute of Urban Affairs (NIUA) and leading Indian academic institutions of the country.
Under the program, 15 premier architecture & planning institutes of the country will be working with Smart Cities to document landmark projects undertaken by the Smart Cities Mission.
The documents will capture the learnings from best practices, provide opportunities for engagement on urban development projects to students, and enable real-time information flow between urban practitioners and academia.
MoHUA and NIUA will facilitate linkages between the Institutions and Smart Cities for specific landmark projects that are to be documented under the program.
The first activity envisaged under SAAR is to prepare a compendium of 75 landmark urban projects in India under the Smart City Mission.