Indian Rhino Vision 2020 (IRV 2020):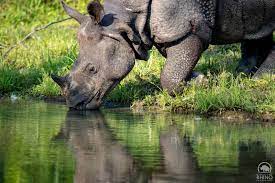 The ambitious Indian Rhino Vision 2020 (IRV 2020) came to a close with the release of two rhinos an adult male and a female in Assam's Manas National Park transported from Pobitora Wildlife Sanctuary about 185 km east.
Designed in 2005, the IRV2020 is believed to have achieved its target of attaining a population of 3,000 rhinos in Assam.
But the plan to spread the Rhinoceros unicornis across four protected areas beyond Kaziranga National Park, Orang National Park, and Pobitora could not materialize.
Assam had at least five rhino-bearing areas till the 1980s.
Better conservation efforts helped maintain the population of the one-horned herbivore in Kaziranga, Orang, and Pobitora, but encroachment and poaching wiped the animal out of Manas and Laokhowa Wildlife Sanctuary.
The lesser-known Laokhowa slipped under the radar of international watchdogs.
Manas, in focus for the near-extinction of the pygmy hog, lost the World Heritage Site tag it received in 1985 along with Kaziranga from the UNESCO.
The translocated rhinos helped Manas National Park get back its World Heritage Site status in 2011.