"The Little Book of Encouragement":By Dalai Lama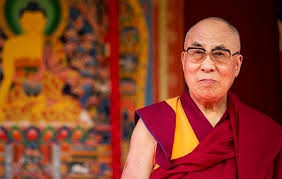 The Tibetan spiritual leader the Dalai Lama have recently launched his new book "The Little Book of Encouragement". The book comprises of 130 quotes. The book has been edited by Renuka Singh while published by Penguin Random House.
The Dalai Lama while launching the book highlighted that, he is one among more than seven billion human beings who are alive today amid the COVID-19 pandemic. So, he has committed to promoting human happiness.
He further highlights that; we think happiness comes from money and power. But little we know the role of the mind or that the key to happiness is inner peace.
He has asked the readers to discuss the thoughts from the books with friends and put these thoughts in day-to-day life practice.
He further termed climate change and global warming as a very serious issue, apart from the Covid-19 pandemic.
Dalai Lama's take on Sino-India ties
He wrote on the Sino-India relation that, both India and China have developed a sense of competition in recent times.
The countries have a high population and are powerful nations. Yet, they cannot destroy each other and have to live side-by-side.
Further, on the Tibet issue he suggested the Tibetans consider the Chinese as brothers and sisters than as enemies.
About Dalai Lama:
Dalai Lama's title has been given by the Tibetan people to the foremost spiritual leader of the Gelug or "Yellow Hat" school of Tibetan Buddhism.
Tenzin Gyatso is the current and 14th Dalai Lama.
He lives in India as a refugee.
The Dalai Lama is considered to be the successor tulkus.
The tulkus are considered to be the incarnations of Avalokiteśvara (a Bodhisattva of Compassion).