Snow Leopard: WWE Report: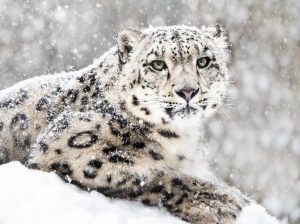 The World Wildlife Fund for Nature (WWF) has released a report titled "Over 100 Years of Snow Leopard Research — A spatially explicit review of the state of knowledge in the snow leopard range".
Key findings:
More than 70 per cent habitat of the snow leopard, over 12 Asian countries, remains unresearched.
Nepal, India and China had conducted the most snow leopard research, followed by Mongolia and Pakistan.
Despite a major research focus on snow leopard population assessments, less than three percent of the big cat's range had robust data on abundance.
Globally, there could be as few as 4,000 snow leopards left in Asia's high mountains and this remaining population faces continued and emerging threats.
Threats include Increased habitat loss and degradation, poaching, and conflict with communities.
India has been conserving snow leopard and their habitat through the Project Snow Leopard (PSL).
India is also party to the Global Snow Leopard and Ecosystem Protection (GSLEP) Programme since 2013.
For conservation, India has identified three large landscapes, namely, Hemis-Spiti across Ladakh and Himachal Pradesh; Nanda Devi – Gangotri in Uttarakhand; and Khangchendzonga – Tawang across Sikkim and Arunachal Pradesh.
Project Snow Leopard (PSL) was launched in 2009 to promote an inclusive and participatory approach to conserve snow leopards and their habitat.
Snow Leopard is on the list of 21 critically endangered species for the recovery programme of the Ministry of Environment Forest & Climate Change.