Sri Lanka's West Container Terminal (WCT) Project: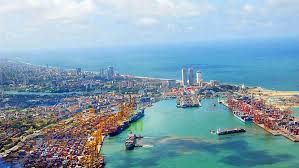 Sri Lanka said it will develop the West Container Terminal (WCT) at the Colombo Port, along with India and Japan.
The decision comes a month after the Rajapaksa government ejected the two partners from a 2019 tripartite agreement to jointly develop the East Container Terminal (ECT), citing resistance to "foreign involvement".
While the High Commission of India had "approved" Adani Ports, which was to invest in the ECT project earlier, Japan is yet to name an investor.
In the ECT project agreed upon earlier, the Sri Lanka Ports Authority (SLPA) was to hold majority 51%, but in the WCT proposal, India and Japan will be accorded 85% stake, as is the case in the nearby Colombo International Container Terminal (CICT), where China Merchants Port Holdings Company Limited holds 85%.
The WCT is adjacent to the China-run CICT and just a couple of kilometers away from the China-backed Port City being built on reclaimed land, making it a strategically desirable spot for India, whose concerns over China's presence in Sri Lanka are well known.