Unlawful Activities [Prevention] Act in 2019: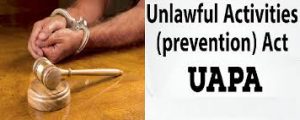 There has been an over a 72% increase in the number of persons arrested under the UAPA (Unlawful Activities [Prevention] Act) in 2019 compared to the year 2015, data provided by the Ministry of Home Affairs (MHA) in the Lok Sabha show.
As many as 1,948 persons were arrested under the UAPA in 1,226 cases registered across the country in 2019. From 2015 till 2018, the cases registered under the Act annually stood at 897, 922, 901, and 1,182 respectively, while the number of arrests was 1,128, 999, 1,554, and 1,421.
In 2019, the highest number of such cases were registered in Manipur (306), followed by Tamil Nadu (270), Jammu & Kashmir (255), Jharkhand (105), and Assam (87) cases.
The highest number of arrests in the same year was made in Uttar Pradesh (498), followed by Manipur (386), Tamil Nadu (308), Jammu & Kashmir (227), and Jharkhand (202).
The government had declared 42 organizations as terrorist organizations and listed their names in the First Schedule of the UAPA
Only 2.2 % of cases registered under the UAPA between 2016-2019 ended in convictions by court
Cases under the UAPA are investigated by the State police and the National Investigation Agency (NIA).
Under the UAPA, getting bail is rare and the investigating agency has up to 180 days to file a charge sheet.