Srivilliputhur Megamalai Tiger Reserve: Building iIlegal Resort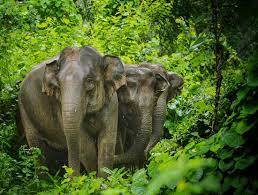 An RTI query recently revealed that the forest department has identified 12 illegal, unauthorised or unrecognised resorts in Srivilliputhur Megamalai Tiger Reserve (SMTR), Megamalai division in Theni.
Srivilliputhur Megamalai Tiger Reserve (SMTR) is spread across the districts of Theni, Virudhunagar and Madurai in Tamil Nadu.
It lies in the Western Ghats region.
SMTR is India's 51st tiger reserve and 5th tiger reserve of Tamil Nadu.
It was formed in February 2021 by combining Grizzled Squirrel Wildlife Sanctuary and Megamalai Wildlife Sanctuary.
It will function as a connecting link between Kerala's Periyar Tiger Reserve and Tamil Nadu's Southern Kalakkad-Mundanthurai Tiger Reserve.
SMTR will provide protection to Megamalai, the Vaigai River's primary catchment, in turn helping water levels to rise in the river.
It's a blend of tropical evergreen and semi-evergreen forests, dry deciduous and moist mixed deciduous woods, and grasslands.
Fauna : Elephants, Tiger, Leopard, Nilgiri Tahr, Gaur, Spotted Deer, Barking Deer, Sambar Deer, Wild Boar, Porcupine, Nilgiri Langur, Lion-Tailed Macaque etc.