Typhoon Nanmadol: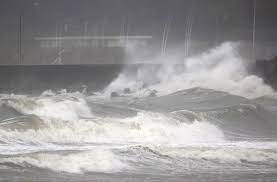 Typhoon Nanmadol, one of the biggest storms to hit Japan in years, killed at least two people and brought ferocious winds and record rainfall to the west of the country, causing transport disruptions and forcing manufacturers to suspend operations.
Nanmadol made landfall near Kagoshima city late on Sunday before battering the western island of Kyushu and roaring onto the main island of Honshu on Monday morning.
A typhoon is a mature tropical cyclone that develops between 180° and 100°E in the Northern Hemisphere.
This region is referred to as the Northwestern Pacific Basin, and is the most active tropical cyclone basin on Earth, accounting for almost one-third of the world's annual tropical cyclones.