Rebate on Central and State Taxes and Levies (RoSCTL):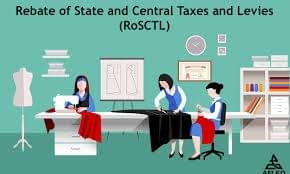 Garment exporters will continue to get a rebate on central and state taxes on their outward shipments as the government approved extension of RoSCTL scheme till March 2024.
The move is aimed at enhancing competitiveness of the labour-intensive textiles sector.
The Union Cabinet chaired by Prime Minister Narendra Modi has given its approval for continuation of Rebate of State and Central Taxes and Levies (RoSCTL) with the same rates as notified by the Ministry of Textiles for exports of apparel/garments and made-ups.
The scheme will continue till March 31, 2024. It will help boost exports and job creation,.
The sectors covered under this scheme (apparel/garments and made-ups) would not get benefits under the Remission of Duties and Taxes on Exported Products (RoDTEP) scheme.
However, textiles products which are not covered under the RoSCTL would be eligible to avail the benefits, if any, under RoDTEP along with other products as finalised by the Department of Commerce.
The scheme will be implemented by the Department of Revenue with end-to-end digitisation for issuance of transferrable Duty Credit Scrip, which will be maintained in an electronic ledger in the customs system.