SSLV-D1-EOS 02: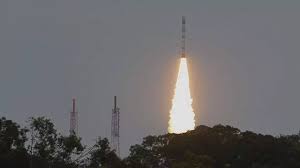 The Indian Space Research Organisation Chairman S Somanath has said that the maiden launch of the Small Satellite Launch Vehicle, SSLV failed to place the satellites in the intended orbit due to sensor anomaly.
SSLV-D1-EOS 02 launched from Sriharikota launch pad had placed the satellites into 356kmX76 kms elliptical orbit instead of 356 km circular orbit.
Due to which the two satellites remained unstable and are no longer usable.
The ISRO Chairman has said the launch vehicle took off majestically at the intended time from the launch pad in Sriharikota.
Its propulsion stages, overall hardware, aerodynamic design and new generation electronics, the separation system used for the first time performed very well.
However after reaching an altitude of 356 kms there was a failure of logic to identify sensor failure and go for the salvage motion.
Hence the launch vehicle developed an anomaly.
The ISRO Chairman has said that a team of experts will go deeper to find out the reason for this isolation.
He emphasised that after a small correction and revalidation, SSLV-D2 will be launched very soon.