Tampara Lake : Direction From National Green Tribunal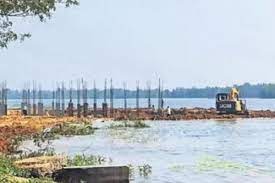 The National Green Tribunal, Eastern Zone, has directed the Odisha government not to go ahead with 'illegal' construction in and around Tampara Lake
Tampara Lake is one of the largest fresh water lakes in the State of Odisha.
The beautiful lake & the nearby Chilika Lagoon highlight the ecological diversity Odisha is blessed with.
It supports at least 60 species of birds, 46 species of fishes, at least 48 species of phytoplanktons, and more than seven species of terrestrial plants and macrophytes.
It is an important habitat for vulnerable species such as Cyprinus carpio, common pochard (Aythya ferina), and river tern (Sterna aurantia).
It is already placed in the Wetland Atlas prepared by Ministry of Environment, Forest and Climate Change in 2010.
National Green Tribunal:
It has been established under the National Green Tribunal Act 2010.
New Delhi is the Principal Place of Sitting of the Tribunal and Bhopal, Pune, Kolkata and Chennai shall be the other four places of sitting of the Tribunal.
NGT is mandated to make disposal of applications or appeals finally within 6 months of the filing of the same.