JIMEX : 5th Edition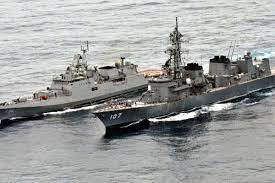 The fifth edition of India – Japan Maritime Bilateral Exercise, JIMEX, between the Indian Navy (IN) and the Japan Maritime Self-Defence Force (JMSDF), will be held in Arabian Sea from 06 to 08 October 2021.
JIMEX series of exercises commenced in January 2012 with special focus on maritime security cooperation. The last edition of JIMEX was conducted in September 2020.
JIMEX-21 aims to develop common understanding of operational procedures and enhance inter-operability through conduct of a multitude of advanced exercises, across the entire spectrum of maritime operations.
Multi-faceted tactical exercises involving weapon firings, cross-deck helicopter operations and complex surface, anti-submarine and air warfare drills will consolidate coordination developed by the two navies.