NOTA (None Of The Above):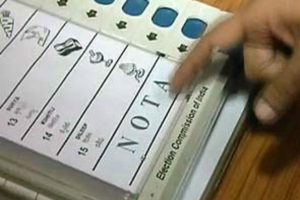 The Supreme Court asked the Centre and the Election Commission of India to respond to a plea that fresh elections should be conducted in constituencies where the highest number of votes polled are NOTA (None Of The Above).
The petition said candidates 'rejected' by voters should not be fielded again in the fresh polls.
Chief Justice of India Sharad A. Bobde expressed doubts initially about the feasibility of the petition to arm the electorate with the "right to reject" and nudge political parties to present voters with a better choice of candidates to pick from.
Chief Justice Bobde said if voters kept rejecting candidates, Parliament/Assembly seats would continue to remain vacant, affecting legislative functioning.
But the petition argued that "if voters are given the power to reject, political parties will take care to field worthy candidates in the first place."
None of the Above (NOTA):
Supreme Court, in the PUCL v Union of India (2013) directed the ECI to introduce NOTA indirect elections to allow voters to register their protest if none of the candidates is acceptable to them.
NOTA has only symbolic value in a direct election. Regardless of NOTA numbers, the candidate polling most votes is elected.
However, it is a step towards encouraging political parties to field candidates with integrity.