Grand Ethiopian Renaissance Dam's (GERD):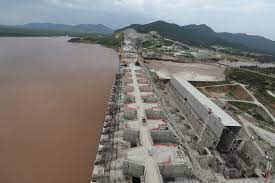 Ethiopia has started the second phase of filling a Grand Ethiopian Renaissance Dam's (GERD) reservoir on the upper Blue Nile, which raised tensions from Sudan and Egypt ahead of an upcoming UN Security Council meeting on the issue.
Ethiopia had previously announced it would proceed to the second stage of filling in July, with or without a deal.
The Nile, Africa's longest river, has been at the center of a decade-long complex dispute involving several countries that are dependent on the river's waters.
Ethiopia began the construction of the GERD in 2011 on the Blue Nile.
This 145-meter-tall hydropower project is Africa's biggest dam project and will have lasting impacts on its longest river- Nile.
Blue Nile is a tributary of the Nile river and it carries about two-thirds of the river's water volume and most of the silt.
Egypt, which lies downstream, has objected to the construction of the dam and proposed a longer timeline for the project.
It does not want the water level of the Nile to dramatically drop as the reservoir fills with water in the initial stages.
Sudan has also been involved due to its location.
The Nile is an important water source in the region so there are concerns that this dispute may evolve into a full-fledged conflict between Egypt and Ethiopia.
Recently, the USA has stepped in to mediate.