Maitree Power Project: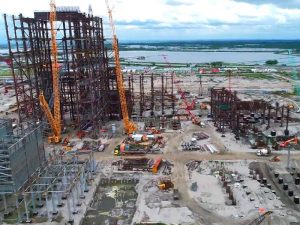 Secretary (Power) Govt of India met Secretary (Power) Govt of Bangladesh for the issues related to 1320MW Maitree Power project.
The Maitree super thermal power project is a 1,320MW coal-fired power station under construction in Rampal, Bangladesh.
It is located at Moithara, Rampal, in the Bagerhat district, approximately 23km south-east of the Khulna city, Bangladesh. The coal-fired facility is being developed on a 1,834acre-site on the bank of Passur River in south-west Bangladesh.
The power plant is being developed by Bangladesh India Friendship Power Company (BIFPCL), a 50:50 joint venture between India's state-run National Thermal Power Corporation (NTPC) and Bangladesh Power Development Board (BPDB).
Construction on the Rampal power plant was started in 2017. The first unit of this project would be commissioned in December' 2021 i.e. coinciding with Golden Jubilee celebration of Victory Day of Bangladesh
The project is an environmentally friendly supercritical technology based thermal power plant.