The 42nd Session Of The Food And Agriculture Organization's (FAO) Conference: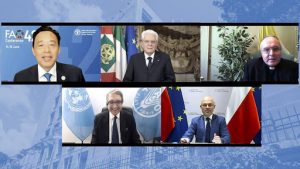 The 42nd session of the Food and Agriculture Organization's (FAO) Conference was held recently.
For the first time ever, the FAO Conference is held in virtual mode.
The conferenc takes place every two years and is FAO's supreme governing body.
It determines the policies of the Organization, approves the budget, and makes recommendations to Members on food and agriculture issues.
FAO Strategic Framework 2022-2031.
In this year's Conference, FAO Members will adopt the Strategic Framework 2022-2031.
The Framework aims to support the 2030 Agenda for Sustainable Development through the transformation to MORE efficient, inclusive, resilient, and sustainable agri-food systems for Better Production, Better Nutrition, a Better Environment, and a Better Life, leaving no one behind.
The "Four Betters" represent an organizing principle for how FAO intends to contribute to the Sustainable Development Goals (SDGs), particularly SDG 1 (no poverty), SDG 2 (zero hunger), and SDG 10 (reduced inequalities).
About FAO:
It is a specialized agency of the United Nations that leads international efforts to defeat hunger.
Headquarters: Rome, Italy.
Founded: 16 October 1945.
Their goal is to achieve food security for all and make sure that people have regular access to enough high-quality food to lead active, healthy lives.