The Bihar Special Armed Police Bill, 2021: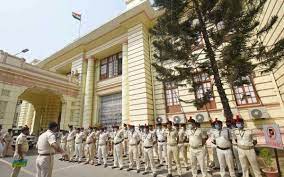 The Bihar Special Armed Police Bill, 2021 was passed recently amid protests by the Opposition.
The Bill is aimed at boosting security and will have limited scope as it is applicable only to certain specified areas.
Aim of the Bill:
It "aims to develop the Bihar Military Police into a well-trained and fully equipped armed police force with multi-domain expertise to cater to the development needs and the larger interest of the state.
Key Provisions:
Renames the Bihar Military Police as the Bihar Special Armed Police, and gives the force more teeth, on the lines of the Central Industrial Security Force (CISF), so it can better secure the commercial and industrial assets of the state.
The mandate of the force will be the "maintenance of public order, combating extremism, ensuring the better protection and security of specified establishments in such manner as may be notified and perform such other duties, as may be notified."
Empowers Special Armed Police officers to carry out searches and arrests without warrants.
Courts can take cognizance of certain offenses by the officers only after government sanction.