Commercial Jute Seed Distribution Scheme: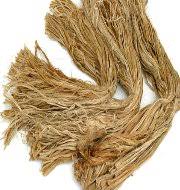 The Union Textile Minister, Smriti Irani, has launched the commercial Jute seed distribution scheme on February 15, 2021.
The Commercial Jute Seed Distribution Scheme was launched in the backdrop of a Memorandum of Understanding (MoU) signed between the Jute Corporation of India and the National Seeds Corporation.
The MoU was signed in the year 2020 for the commercial distribution of 1 thousand Metric Tonne certified jute seeds in the year 2021-22.
The Union Minister while rolling out the scheme highlighted that the central government has also increased the Minimum Support Price (MSP) for Jute in order to help Jute farmers in the country.
MSP has been increased by nearly 76 percent in the period of last 6 years.
Currently, the MSP for Jute has been kept at 4 thousand 225 rupees in the financial year 2020-21. This price has been doubled when compared to the MSP of 2 thousand 400 in the year 2014-15.
The textile minister also stated that the highly productive variant of Jute seeds will help to enhance the income of nearly 5 lakh Jute farmers across the country.