Trilateral Maritime Partnership Exercise: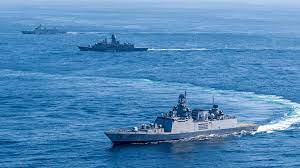 The Indian Navy's warship, INS Sahyadri, participated in the first trilateral Maritime Partnership Exercise with the Royal Australian Navy (RAN) and Indonesian Navy from September 20-21, 2023.
The exercise allowed the three nations to strengthen their partnership and improve their collective capability to support a stable, peaceful, and secure Indo-Pacific region.
INS Sahyadri, the third ship of the indigenously designed and built Project-17 class multirole stealth frigates was built at Mazagon Dock Ltd, Mumbai.
The Project 17 class, also known as the Shivalik class.
These frigates were the first stealth warships built in India.
Shivalik is fitted with a mix of indigenous Russian, Indian, and Western weaponry and sensor systems.