Trincomalee Oil Tank Farms: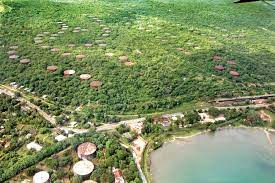 In the coming days, India and Sri Lanka are going to sign the long pending deal to jointly develop the Trincomalee oil tank farms.
The signing of the deal will reflect a positive sign, amidst strained relationship between the two countries.
About Trincomalee Oil Tank Farms:
The oil tank farm was built by the British during World War II as a refuelling station,
It is located in 'China Bay' in close proximity to the internationally coveted deep water natural harbour of Trincomalee.
The proposal of this joint development was envisaged 35 years ago, in the Indo-Lanka Accord 1987.
It comprises 99 storage tanks, with a capacity of 12,000 kilolitres each, spread across Lower Tank farm and Upper Tank Farm.
In 2003, Indian Oil Corporation set up its Sri Lankan subsidiary called Lanka IOC, to work on this oil farm.
Currently, Lanka IOC runs 15 tanks. The new agreement is being negotiated for the remaining tanks.