Triple Test Survey On Reservation: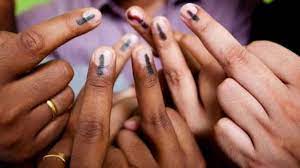 The Allahabad High Court had ordered the Uttar Pradesh Government to conduct urban local body elections without the OBC reservations as the "triple test" requirement for the quota has not been fulfilled.
The state government has recently constituted a commission to conduct the triple test survey in the urban local bodies.
The Supreme Court put forth the triple test in the case Vikas Kishanrao Gawali vs. State of Maharashtra and others on March 2, 2021.
It involves the government implementing three tasks to finalize the reservation to the OBCs in the local bodies.
These tasks are:

Constitute a dedicated commission to conduct a rigorous empirical study into the nature and implications of the backwardness in local bodies
To specify the proportion of reservation required in local bodies based on the commission's recommendations
To ensure that the reservations for SCs, STs and OBCs together do not surpass the aggregate of 50 percent of the total seats.
In 2017, the Uttar Pradesh government conducted a rapid survey to determine the OBC population.
This survey was conducted in each municipality, and based on its result, seats were reserved in proportion to the OBC population in the respective constituency.
The rapid survey only focuses on the headcount of the OBC population.