Tsari Chu river: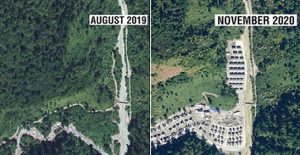 China said its construction of a village across the Line of Actual Control (LAC) in Arunachal Pradesh was "beyond reproach" because it had "never recognized" Arunachal. India's Ministry of External Affairs said earlier this week it was aware of the construction "along the LAC".
The village was built between November 2019 and November 2020 and located a couple of kilometres across the LAC, beyond what India sees as the border separating Arunachal Pradesh and Tibet, on the banks of the Tsari Chu river in Upper Subansiri district in Arunachal.
The site of the village is close to where China had attacked an Assam Rifles post in 1959, in what is known as the Longju incident. It is at least 2 km south of the McMahon Line, which China doesn't recognize.
After the 1962 war, India stopped patrolling the area.
Another village built last year, called Pangda, was built 2-3 km inside what Bhutan sees as its territory, in another disputed area.
The Subansiri rivers are a trans-Himalayan river and a tributary of the Brahmaputra River that flows through Tibet's Shannan Prefecture and the Indian states of Arunachal Pradesh and Assam.
It is formed by joining three streams Lokong Chu, Chayal Chu, and Tsari Chu.