U.S.- Taliban peace deal: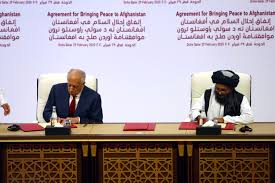 The Biden administration has said that it will review the US-Taliban deal to see if the Taliban are able to keep their end of the bargain.
U.S.- Taliban peace deal:
A peace deal between the U.S. Government and the Taliban was signed on 29 February, 2020.
The deal calls for U.S. and North Atlantic Treaty Organization (NATO) troops to leave Afghanistan.
Significance of Peace in Afghanistan for India:
India has called for renewed efforts for establishing enduring peace and stability, and putting an end to externally-sponsored terrorism and violence in Afghanistan.
Economically, it is a gateway to the oil and mineral-rich Central Asian republics.
Afghanistan has also become the second-largest recipient of Indian foreign aid over the last five years.
Some of the important elements of the deal include:
The withdrawal of US troops along with bringing down NATO or coalition troop numbers within 14 months from when the deal was signed.
The main counter-terrorism commitment by the Taliban is that:

Taliban will not allow any of its members, other individuals or groups, including al-Qaeda, to use the soil of Afghanistan to threaten the security of the United States and its allies.