Ukraine's Odesa : UNESCO's World Heritage In Danger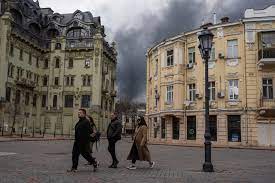 The World Heritage Committee decided to add the historic centre of Ukraine's Black Sea port city of Odesa to its list of World Heritage sites.
This decision recognizes the extraordinary universal value of the site and the duty of all humanity to protect it.
The Historic Centre of Odesa has also been inscribed on the List of World Heritage in Danger.
The List of World Heritage in Danger is designed to inform the international community of conditions that threaten the very characteristics for which a property was inscribed on the World Heritage List and to encourage corrective action.
As of 2023, the 52 properties are decided by the Committee to include on the List of World Heritage in danger.
Odesa, a free city, a world city, a legendary port that has left its mark on cinema, literature and the arts, is thus placed under the reinforced protection of the international community," UNESCO Director-General Audrey Azoulay said in a statement.