Unified Geologic Map Of The Moon: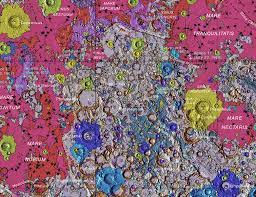 The United States Geological Survey (USGS) in partnership with National Aeronautics and Space Administration (NASA) and the Lunar Planetary Institute has released a new comprehensive map of the Moon, called the 'Unified Geologic Map of the Moon'.
The new map showcases the Moon in a 1:50,00,000-scale size, and is claimed to come handy to researchers, scientists, students and the general public.
The map has been created with the help of the information gathered from six Apollo-era regional maps.
It also uses data from recently held satellite missions to the Moon.
This new map will serve as the "definitive blueprint of the Moon's surface geology for future human missions."
It will come handy to understand the surface of the Moon.
The map will also help researchers learn the history behind the formations located on the Moon's surface.
Earlier, a leftover piece of a spacecraft flying through space reportedly hit the surface of the moon creating a new crater that may be around 65 feet wide (lunar crater).