New Report Released By The United Nations Children's Fund (UNICEF):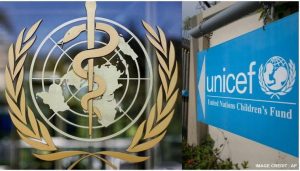 According to a new report released by the United Nations Children's Fund (UNICEF), one in five children worldwide resides in areas of high or extremely high water vulnerability.
The Report was released ahead of World Water Day (22nd March).
The new report is part of UNICEF's 'Water security for all' initiative that identifies areas where physical water scarcity risks overlap with poor water service levels.
The initiative aims to mobilise resources, partnerships, innovation and global response to identified hot spots.
UNICEF identified 37 hot-spot countries where children faced especially distressing circumstances in terms of absolute numbers, where global resources, support and urgent action had to be mobilised.
Afghanistan, Burkina Faso, Ethiopia, Haiti, Kenya, Niger, Nigeria, Pakistan, Papua New Guinea, Sudan, Tanzania and Yemen were especially vulnerable.
Findings:
Children in more than 80 countries live in areas with high or extremely high water vulnerability.
Eastern and Southern Africa has the highest proportion of children living in such areas, with more than half of children – 58% – facing difficulty accessing sufficient water every day.
It is followed by West and Central Africa (31%), South Asia (25%), and the Middle East (23%).
More than 155 million children in South Asia lived in areas with high or even extremely high water vulnerability.
Water Crisis in India:
India has 4% of the world's freshwater which has to cater to 17% of the world's population.
As per NITI Aayog report released in June 2018, India is facing the worst-ever water crisis in history. Approximately 600 million people or roughly around 45% of the population in India is facing high to severe water stress.
The report says that nearly 40% of the population will have absolutely no access to drinking water by 2030 and 6% of India's GDP will be lost by 2050 due to the water crisis.