Unmesha And Utkarsh Festivals: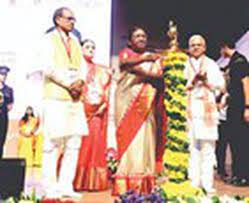 The President of India inaugurated 'Unmesha' – International Literature Festival and 'Utkarsh' – Festival of Folk and Tribal Performing Arts at Bhopal, Madhya Pradesh.
These festivals were organised by Sahitya Akademi and Sangeet Natak Akademi, respectively, with the purpose of celebrating inclusivity and cultural diversity.
UNMESHA is India's most inclusive and Asia's largest literature festival in terms of the number of languages represented.
More than 575 authors in 102 languages are expected to participate in over 75 events in 'Unmesha 2023', and writers from 13 countries will participate in the festival.
This will be the second edition of 'Unmesha'. The first event was held in Shimla in June 2022.
UTKARSH festival showcases the folk and tribal Performing Arts
It casts a spotlight on the treasure trove of India's folk and tribal heritage, endowing these expressive art forms with a resplendent stage to captivate and enthral.
'Utkarsh' serves as a vital launchpad for traditional artists and performers to unfurl their artistry, safeguarding the priceless heritage of myriad communities.
'Utkarsh' brings forth a vivid tableau of cultural diversity, nurturing an appreciation for indigenous arts and underscoring their intrinsic value in an increasingly interconnected world.