UN Peacekeepers: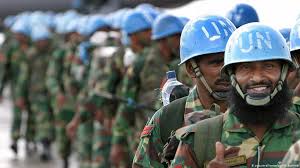 India to gift 2 lakh vaccine doses to UN peacekeepers.
The announcement was made by External Affairs Minister S. Jaishankar during his remarks at a UN Security Council open debate on the implementation of resolution 2532 (2020), passed last year.
UNSC Resolution 2532:
The resolution:
Demands a general and immediate cessation of hostilities in all situations on its agenda" (i.e., those already identified by the United Nations Security Council (UNSC)).
Calls for all parties engaged in armed conflicts (i.e., including those not specifically on the UNSC agenda) to "engage immediately in a durable humanitarian pause for at least 90 consecutive days".
Specifically excludes UNSC designated terrorist groups, e.g., the Islamic State in Iraq and the Levant.
Peacekeeping:
United Nations Peacekeeping is a joint effort between the Department of Peace Operations and the Department of Operational Support.
Every peacekeeping mission is authorized by the Security Council.
The financial resources of UN Peacekeeping operations are the collective responsibility of UN Member States.
According to the UN Charter, every Member State is legally obligated to pay their respective share for peacekeeping.
Composition:

UN peacekeepers (often referred to as Blue Berets or Blue Helmets because of their light blue berets or helmets) can include soldiers, police officers, and civilian personnel.
Peacekeeping forces are contributed by member states on a voluntary basis.
The civilian staff of peace operations is international civil servants, recruited and deployed by the UN Secretariat.