Vanadium: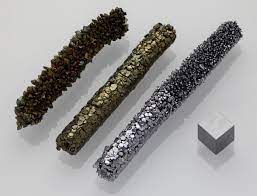 Vanadium, a critical raw material for many industrial applications, has been found recently in sediment samples collected from the Gulf of Khambhat in Gujarat.
Vanadium is a chemical element with the symbol "V" and atomic number 23.
It is a silver-gray, ductile, and malleable metallic element.
It is harder than most metals and exhibits good corrosion resistance against alkalis and acids.
It was discovered (1801) by the Spanish mineralogist Andrés Manuel del Río, who named it erythronium but eventually came to believe it was merely impure chromium.
The element was rediscovered (1830) by the Swedish chemist Nils Gabriel Sefström, who named it after Vanadis, the Scandinavian goddess of beauty and youth.
The English chemist Henry Enfield Roscoe first isolated the metal in 1867 by hydrogen reduction of vanadium dichloride.
Found combined in various minerals, coal, and petroleum, vanadium is the 22nd most abundant element in Earth's crust.
It is found in over 60 different minerals, including vanadinite, carnotite, roscoelite, and patronite.
The largest resources of vanadium minerals are found in South Africa and Russia.
Leading Producers: China, South Africa, and Russia.