Dhruvastra Missile: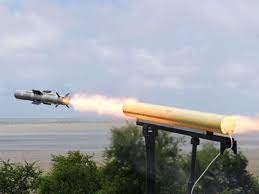 India's Defence Acquisition Council (DAC) recently gave the green light to several capital acquisition proposals, including the indigenous Dhruvastra short-range air-to-surface missile.
It is a helicopter-launched anti-tank guided missile (ATGM) system.
It is a short-range air-to-surface missile.
It was indigenously developed by the Defence Research and Development Organisation (DRDO).
Dhruvastra is the Air Force's version of Helina (Helicopter-launched Nag missile) ATGM.
It is equipped with Imaging Infrared (IIR) seeker and operates in "lock on before launch" mode.
The fire and forget missile has a minimum range of 500 metres and a maximum range of 7 kilometres.
It can be launched from an altitude of up to 4 kilometres and can hit targets moving at speeds of up to 70 kilometres per hour.
The missile can engage targets both in direct hit mode as well as top attack mode.
It works in all kinds of weather, during the day or night, and in various types of terrain, such as deserts, plains, hills and forests.