Varanasi Has Been Selected As The SCO Region's First Tourism And Cultural Capital: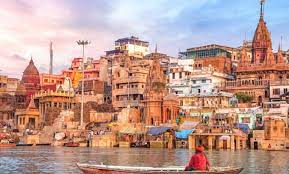 Ahead of the Shanghai Cooperation Organisation (SCO) Summit to be held in September 2022, Varanasi has been selected as the SCO region's first "Tourism and Cultural Capital for 2022-23.
The SCO summit will be held in Samarkand, Uzbekistan where Iran and Belarus are likely to be the two newest additions to the SCO.
Earlier, the Cabinet was apprised of the Agreement signed among the Shanghai Cooperation Organisation, SCO, member states on cooperation in the field of youth work among the authorized bodies of the member states of SCO.
India will host the SCO summit next year 2023.
Varanasi' "Cultural and Tourism Capital" has been decided under a new rotating initiative to promote people-to-people contacts and tourism among the member states.
Each year a city of the cultural heritage of a member country that will take over the rotating Presidency of the organisation will get the title to highlight its prominence.
The new initiative will come into force after the Samarkand summit following which India will take over the Presidency and host the next Heads of the State summit.