Varuna Phase II : Naval Exercise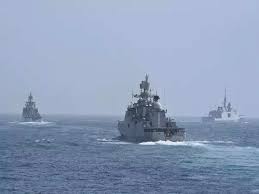 Phase Il of the Varuna naval exercise between Indian and French Navy was conducted in the Arabian Sea.
NAVAL EXERCISE VARUNA is the bilateral Naval Exercise between India and France initiated in 1993.
The exercise witnessed participation of guided missile frigates, tanker, Maritime Patrol Aircraft and integral helicopters from the two sides.
Units of both navies endeavoured to enhance and hone their war fighting skills, improve interoperability and demonstrate their ability to promote, peace, security and stability in the region.
The exercise also facilitates operational level interaction between the two Navies to foster mutual cooperation for good order at sea, underscoring the shared commitment to ensuring security, safety and freedom of the global maritime commons.