Bhitarkanika National Park : Migratory Birds Report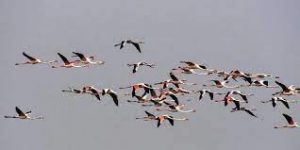 The recent census report of birds released by the forest department in Odisha said that the number of migratory birds in Bhitarkanika National Park has risen to 1,39,959 this winter compared to last year's count of 1,38,107 birds.
The report highlighted that the number of bird counts increased but the diversity of species has decreased compared to last year.
This year the Bhitarkanika National Park saw 140 species of birds compared to 144 last year
Bhitarkanika National Park is located in the Kendrapara district of Odisha.
It is India's second-largest mangrove ecosystem after the Sunderbans.
This National Park is a network of creeks and canals which are inundated with waters from rivers Brahmani, Baitarani, Dhamra and Patasalaforming a unique ecosystem.
It is home to the largest congregation of endangered Salt Water Crocodiles in the country.
The Gahirmatha Beach which forms the boundary of the sanctuary in the east is the largest colony of the Olive Ridley Sea Turtles.
Bhitarkanika is also home to eight varieties of Kingfisher birds which is also a rarity.