What Are Undertrials?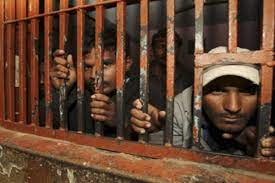 The Indian President has raised the issue of the plight of a large number of undertrials holed up in the prisons.
An undertrial is a person who is currently on trial or who is imprisoned on remand whilst awaiting trial or a person who is on a trial in a court of law.
The 78th Report of Law Commission also includes a person who is in judicial custody on remand during investigation in the definition of an 'undertrial'.
As per NCRB (National Crime Report Bureau), over the last 10 years, the number of undertrials in jails has risen constantly and peaked in 2021.
In 2020, about 76% of all prison inmates in the country were undertrials, of which about 68% were either illiterate or school dropouts.
Delhi and Jammu and Kashmir (J&K) were found to have the highest ratio of undertrials in jails at 91%, followed by Bihar and Punjab at 85%, and Odisha at 83%.
About 27% of all undertrials were found to be illiterate, and 41% had dropped out before Class X.