National Policy Of Rare Diseases: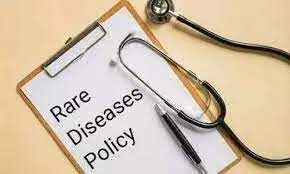 A Rajya Sabha Member of Parliament (MP) raised concerns over National Policy of Rare Diseases (NPRD) as it did not reach any patient with rare diseases even after several months since its introduction.
Ministry of Health and Family Welfare formulated launched NPRD in 2021 for the treatment of rare disease patients.
Aim:

To increase focus on indigenous research and local production of medicines.
To lower the cost of treatment of rare diseases.
To screen and detect rare diseases early at early stages, which will in turn help in their prevention.
Key Provisions of the Policy:
Group 1: Disorders amenable to one-time curative treatment.
Group 2: Those requiring long term or lifelong treatment.
Group 3: Diseases for which definitive treatment is available but challenges are to make optimal patient selection for benefit, very high cost and lifelong therapy.
Those who are suffering from rare diseases listed under Group 1 will have the financial support of up to Rs. 20 lakh under the umbrella scheme of Rashtriya Arogya Nidhi.
Rashtriya Arogya Nidhi provides for financial assistance to patients, living Below Poverty Line (BPL) and who are suffering from major life-threatening diseases, to receive medical treatment at any of the super specialty Government hospitals / institutes.
Beneficiaries for such financial assistance would not be limited to BPL families, but extended to about 40% of the population, who are eligible as per norms of Pradhan Mantri Jan Arogya Yojana, for their treatment in Government tertiary hospitals only.
Alternate Funding: This includes voluntary crowdfunding treatment by setting up a digital platform for voluntary individual contribution and corporate donors to voluntarily contribute to the treatment cost of patients of rare diseases.
The policy aims to strengthen tertiary health care facilities for prevention and treatment of rare diseases through designating eight health facilities as 'Centres of Excellence' and these will also be provided one-time financial support of up to Rs. 5 crore for upgradation of diagnostics facilities.